Best Natural Facial Sunscreens
I looooooove the light vanilla coconut scent of this sunscreen. It is so decadent, but not overwhelming. I find that it goes on nice and sheer as soon as I rub it in a bit.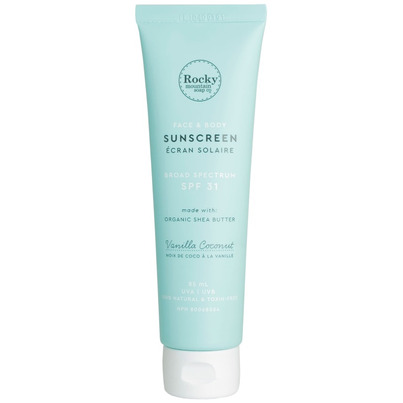 You can get the Juice Beauty Tinted Mineral Moisturizer from Amazon.ca. If you're looking for a tinted moisturizer – there are several different shades to choose from in addition to the sheer one I tried.
I love this sunscreen! It goes on a bit white, but the whiteness goes away easily once you rub it in. I also do not feel this on my face after I put it on – again, easy to apply makeup right away. No dry white powdery stuff with this one, perhaps because it is a bit more like a lotion. It states on the bottle to vigorously shake and knead the tube every time to avoid the separation issue.
I love Babo Botanicals lotions and creams, and have continued to use their miracle moisturizing cream since I found their Oatmilk and Calendula baby lotion (my review here). They also make a Sheer Mineral Sunscreen Lotion!
What natural facial sunscreen do you love?
(Disclaimer: No compensation was received for this post. The opinions expressed are entirely my own. I am a participant in the Amazon Services LLC Associates Program and the Amazon.com.ca, Inc. Associates Program, affiliate advertising programs designed to provide a means for sites to earn advertising fees by advertising and linking to amazon.com & amazon.ca. This post contains affiliate links. If you choose to purchase products via these links, a small percentage of the sale will be given to me at no extra cost to you. Thanks for supporting juicygreenmom.ca!)