Natural Sunscreen: Protection from the Sun AND Toxic Ingredients
A lot of people tell me that natural sunscreens just don't work for them – they still find that they get sunburn. What I think in my head when they say that is – how long are you sitting in the sun and how much of your skin is exposed to it?
Sunscreen is definitely important for sun protection. But I think we often forget about the simple things we also need to consider – like planning what time of day to go out in the sun (avoiding midday), covering up, seeking shade, and checking the UV index that day. Those little things can really make a big difference!
However! You do still need to get out and buy some sunscreen. And you don't want to buy stuff that is full of toxic ingredients. And you don't want to buy the natural stuff that is super goopy and goes on completely white. So what is the best non toxic sunscreen?
You can start with the Environmental Working Group (EWG)'s list of worst sunscreens for kids that are based on these baddy factors:
Spray sunscreens. These products can be inhaled and may not cover skin completely.
SPF values above 50+. Products touting high SPF values try to trick you into believing they'll prevent sun damage. Don't trust them. SPFs of 30 to 50 are enough for even very pale skin.
Oxybenzone. This common sunscreen ingredient has been linked to hormone system disruption.
Retinyl palmitate. This ingredient may actually trigger damage to sun-exposed skin.
A few things to consider when choosing a sunscreen that's right for you:
1. Spray vs Cream.
Spray sunscreens tend to be a lighter consistency. Cream sunscreens tend to give you longer-lasting coverage. The caveat with spray sunscreens is not to spray it directly all over yourself – spray it into your hand and then apply it (especially to your face). I believe that spray sunscreens get a worse ewg rating (Environmental Working Group) on their database because of the possibility of inhaling it.
2. What "oxide" is the main ingredient?
Natural sunscreens use titanium dioxide and/or zinc oxide to block UV rays. There has been some controversy of late about titanium dioxide, so if you're wary of it, stick to sunscreens that only have zinc oxide.
EWG has a great annual guide to sunscreens so that you can check a product's rating before you buy it in the store (a score of 1 means it's super safe, and a score of 10 means it's super bad).
Looking for the best scoring sunscreens for kids? Here is EWG's list.
They also have a great list of best moisturizers with SPF, and I'm happy to see some of my favourite brands on there, like Babo Botanicals.
Goddess Garden
Goddess Garden is a brand of natural and organic sunscreens for adults, kids, and babies. They're made with pure minerals and zinc oxide, offering natural sun protection. I love that the spray is a very light application, and it is reef-safe (so you can go snorkelling or scuba diving with this stuff on, and not worry about it affecting the beautiful reef-life!). This one is a sheer formula that has an EWG rating of 1 (best rating) though it does contain some titanium dioxide. The baby one pictured below has only zinc oxide (no titanium dioxide) and also has an EWG rating of 1. Same with the sunscreen stick, which makes for super easy application!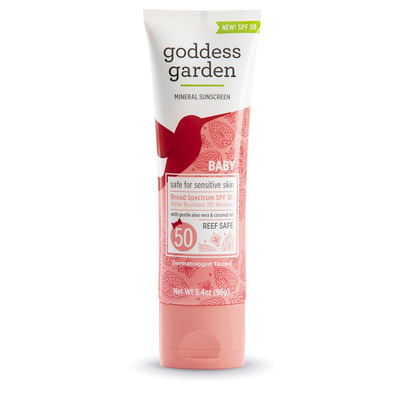 Green Beaver
My other favourite for putting on my daughter is the sunscreen spray by Green Beaver. It is a liquid formula spray that is super easy to apply and isn't thick and goopy like many natural sunscreens can be. It also doesn't leave a smear of white residue behind. Love it! I spray it on my hands and rub it on my daughter's skin. This formula only contains zinc oxide. Not listed in EWG database as it is a Canadian product.
Badger Balm
Badger Balm sunscreens are well-known as one of the safest sunscreens to use on kids and babies (even recommended in my daycare's manual!). When my daughter was still pre-toddler, I used the Baby Sunscreen, which is a cream. Because it is a cream, it takes more effort to rub on to your skin than the other liquid formulas I have listed above. However, because it is thicker, it also stays on for longer. So if it's a super hot day and my daughter is likely to get sweaty, or wet at a spray park – I don't need to re-apply as often. This formula only contains zinc oxide. All Badger sunscreens have an EWG rating of 1 (best score).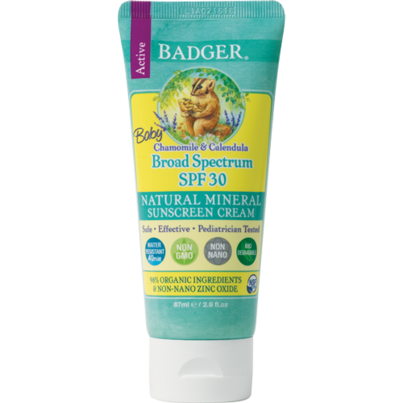 Babo Botanicals Sunscreen
I fell in love with Babo Botanicals because of their oatmeal calendula lotion, which was a life saver for my daughter when she was a baby with eczema. I still love their miracle moisturizing cream as a face moisturizer as well. They carry sunscreen sticks and lotions that have only zinc oxide as the active ingredient. They have formulas for extra-sensitive skin as well. EWG rating: 1 (best score).
Brush on Block
I've started using Brush on Block from Costco, as it is really easy for my daughter to apply by herself, and super lightweight. It's a powder mineral sunscreen with SPF 30 and I love how easy it goes on, leaving barely a trace at all. You can also get it from Amazon, and they have refills available too!
It's really awesome that there are so many more options for natural sunscreen now – and you don't have to settle for looking chalky white. Some of these products are totally sheer and still do their job! For other natural sunscreens I've tried, read this post.
What is your favourite natural sunscreen?
(Disclosure: I am a participant in the Amazon Services LLC Associates Program and the Amazon.com.ca, Inc. Associates Program, affiliate advertising programs designed to provide a means for sites to earn advertising fees by advertising and linking to amazon.com & amazon.ca. This post contains affiliate links. If you choose to purchase products via these links, a small percentage of the sale will be given to me at no extra cost to you. Thanks for supporting juicygreenmom.ca!)