How to Find Eco-Friendly School Supplies
I have a confession to make. I LOVE back-to-school shopping. One of the things I looked forward to the most when I became a mother was that I would once again be able to shop for school supplies. It was such a wonderful time for me as a kid – carefully choosing the best pencil cases and notebooks that were so pretty and new – I loved it. Now that my daughter is starting Kindergarten, I get to start thinking about school supplies again – except that now I am a lot more conscious about what they contain. Since I'm doing the research, I'm going to share how to find eco-friendly school supplies.
Backpacks
Toxin-free backpacks do not contain harmful chemicals like BPA, Leads, Phthalates, or PVC (which ARE in those tantalizing $15 backpacks you see at Wal-Mart. I know. They are so tempting when they have all of your kids' favourite characters on them!! I FEEL YOUR PAIN!!). BabyJoy.ca based out of Toronto, ON has a selection of toxin-free backpacks from brands like Beatrix NY, Little Life, Green Sprouts. (Super cute ones for toddlers and preschoolers!)
Here are some other options:
SoYoung was the first backpack I got for my daughter when she entered school, and I loved how durable it was, the cushy straps and chest clip, and how easy it was to keep clean. The outer fabric is linen, and it is PVC, Phthalate, lead and BPA free. A worthwhile investment and very sweet nature-themed designs!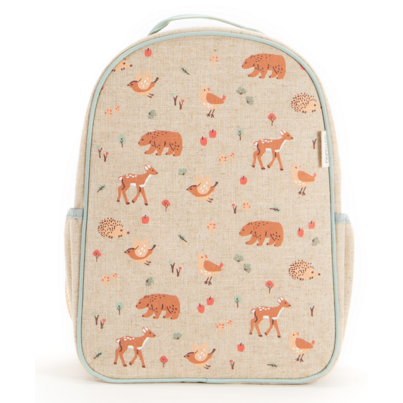 Skip Hop backpacks are BPA Free and Phthalate Free, and have matching lunchbags as well. There are a wide range of animals to choose from. How adorable and awesome is that?
Herschel backpacks are made from 100% post-consumer water bottles, woohoo! They also have lots of features in a variety of sizes.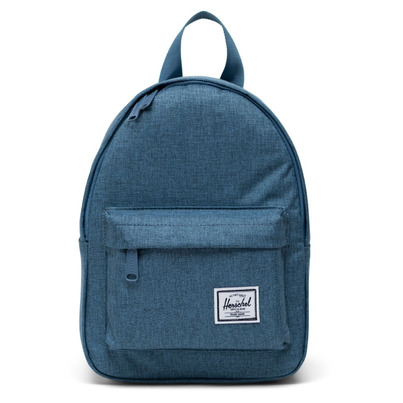 For older kids and adults, Tentree's backpacks are made from Repreve recycled fabrics and trims.
Coalatree also has backpacks made from recycled plastic bottles and have lots of features (great for traveling as well!).
If you're looking for a different type of bag – like a tote bag, Rareform is a company in the U.S. that makes bags from discarded billboard vinyl – a very cool way to reduce that kind of waste! Each bag is one-of-a-kind because of the fact that they're made from billboard vinyl.
Litterless Lunches
Lunchbags can contain the same toxins as backpacks, so look out for labels that state that they are without BPA, lead, phthalates and PVC.
Life Without Plastic has an awesome plastic free lunchbag made from organic cotton and offcuts of wool (excess pieces from a bedding company) for insulation. It's the ultimate plastic free option!
I'm a fan of food containers that are not made of plastic, as you probably already know. There are great stainless steel, glass, and silicone options out there now, both for food and beverages.
Stationery
Get notebooks made from recycled paper (100% post-consumer waste is the most eco-friendly) or sugarcane, and for bonus points – chlorine-free and soy ink printed.
Pens made from recycled plastic and recycled water bottles are now widely available.
And pencils made from recycled materials too – I love the ones made from newspapers!
There are pencil cases made from recycled materials too! Hurrah! SoYoung also makes PVC, Phthlate, lead and BPA free pencil cases along with their backpacks!

There really are more sustainable options for any school supplies you need – you just need to look at what's out there!
What are your favourite eco-friendly school supplies?
(Disclosure: I am a participant in the Amazon Services LLC Associates Program and the Amazon.com.ca, Inc. Associates Program, affiliate advertising programs designed to provide a means for sites to earn advertising fees by advertising and linking to amazon.com & amazon.ca. This post contains affiliate links. If you choose to purchase products via these links, a small percentage of the sale will be given to me at no extra cost to you. Thanks for supporting juicygreenmom.ca!)